Tuning - Multi
HD Type Carburetter: Tuning (Multi-Carbs)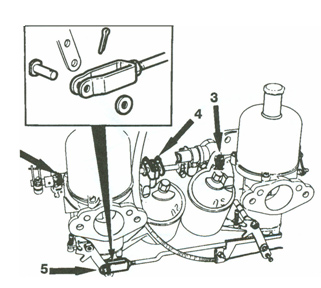 1
Note: Whenever the throttle adjusting screws (3) are fitted they, and not the slow-running valves, must be used to adjust the idling speed. Screw down the slow-running valves (which must remain closed) and set the throttle adjusting screws (3) 1.5 turns open. In items 2 and 3, adjust the idling speed with the throttle adjusting screws.
(a) Slacken a clamping bolt (4) on one of the throttle spindle interconnection couplings between the carburetters.
(b) Disconnect the jet control interconnecting rod at the forked end (5).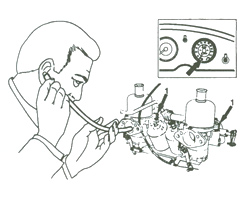 2
(a) Restart the engine and turn the slow-running valve (1), or the throttle adjusting screw, an equal amount on each carburetter to give the desired idling speed.
(b) Compare the intensity of the intake hiss on all carburetters and alter the slow-running valves (1), or throttle adjusting screws, until each hiss is the same.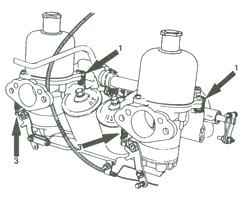 3
(a) Turn the jet adjusting screw (3) an equal amount on all carburetters, up to weaken or down to enrich, until the fastest idling speed consistent with even running is obtained.
(b) Re-adjust the Slow-running valves (1), if necessary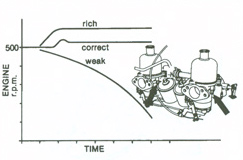 4
(a) Check the mixture by raising the lifting pin (4) of the front carburetterO.8 mm (1/32 in) after free movement has been taken up. The graph illustrates the possible effect on engine r.p.m.
(b) Repeat the operation on the other carburetter(s) and after adjustment re-check as the carburetters are interdependent.
(c) Page 27 shows the effect of mixture on the exhaust smoke.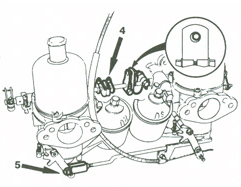 5
(a) Tighten the clamp bolt (4) of the throttle spindle interconnections with the pin of the link pin lever resting against the edge of the pick-up lever hole. This provides the correct delay in opening the front carburetter throttle. When forked levers are fitted, set the cranked levers so that the pin isO.15 mm (0.006 in) from the lower edge of the fork.
(b) Reconnect the jet control linkage (5) so that the jet operating arms move simultaneously; if necessary, turn the fork end(s).
6
(a) Reconnect the mixture control wire with about1.6 mm (1/16 in) free movement before it starts to pull on the jet levers.
(b) Pull the mixture control knob until the linkage is about to move the carburetter jet operating arms, and adjust the fast-idle screws (2) to give an engine speed of about 1,000 r.p.m. when hot.
(c) Return the control knob and check that there is a small clearance between the fast idle screws and the throttle stops.
(d) Refit the air cleaners and re-check for correct mixture as described in item 4.