Carburetter Restoration and Rebuild Procedure
The Start
Work begins with the carburetters being assigned a unique job reference number so as to track them efficiently through the restoration process. Drawings are made and photographs taken, then all parts that are sent in are catalogued and recorded.
Dismantling
The carburetters are then stripped down to their component parts. Great care is taken during this process, to avoid damage to parts that will be re-used such as the body and float chambers.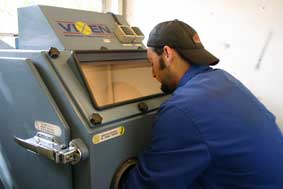 Cleaning
The next stage is to clean the component parts. All jobs are carried out on a one to one basis ensuring continuity throughout and where there is a sufficient build up of greasy deposits, the Carburetters are initially cleaned by hand.
The next process is to blast the components with a blasting machine. The type of blasting we carry out must not be confused with the more usual industrial sand blasting techniques in common practice elsewhere. For sensitive parts like the zinc and aluminium based bodies of Carburetters, which often have high tolerances in their machining, a very gentle media is used so as not to harm the surfaces or push machining out of tolerance.

The final part of the cleaning process is the finishing stage, which is carried out using a specialist vibration machine. A combination of extensive trials and years of experience have enabled us to replicate the dull shine of components just as they would have appeared when new.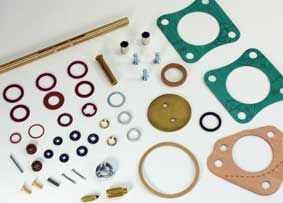 Rebuild
The next stage is to begin rebuilding the carburetters. Checks are made to original specification sheets to ensure the rebuild is exactly as original.

Where changes to the original specification are evident, close communication with the client ensures that parts are either replaced with original specification or re-fitted with new replacement items as instructed.

This makes sure that the Carburetters will be suitable to refit to an engine in standard form or one that has been previously modified in some way. Where no preference is stated, Carburetters are normally rebuilt to the standard they were sent in as.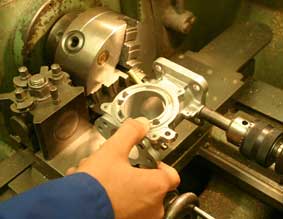 Re-bushing Carburetter Bodies
This process is perhaps one of the most important if the Carburetters are to function correctly. Absolute accuracy is essential in order to keep the spindle perfectly central to the throttle bore otherwise the throttle disc is unlikely to close correctly, resulting in a poor idle. This is achieved by using a lathe and special drill bit which also avoids drilling all the way through to the inner bore, another cause of poor running.
Finishes
Polishing is carried out to suction chambers unless a request is made not to do so. Any metal part that was originally plated is re-plated to our usual high standards, closely following the original specified process and plating type.

Chrome and nickel plating can be carried out if required and quotations can be provided for this on an individual basis. Carburetters that were originally finished with a black enamel coating will be finished in the same way unless requested otherwise (see pricing). Black enamel can be applied to any part on request.
Replacement parts
All parts that do not meet our high standards are replaced if they are un-reparable. All essential sealing parts such as gaskets, washers and cork seals are replaced as a matter of course.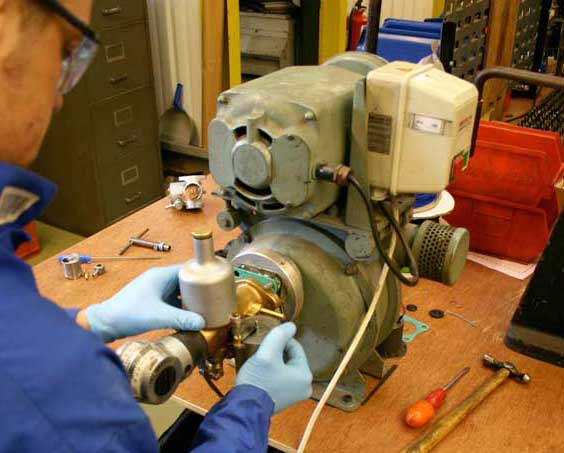 Testing and checking
Once the carburetters are rebuilt they go through 4 stage testing process.

Floats are placed into a pressure testing machine that checks for holes and any deformity which could lead to leaks.

Float Forks are adjusted to the correct setting so that the fuel level is correct.

The carburetter is then tested on an Exhauster. This machine simulates the vacuum of an engine so that the carburetter piston can be checked to ensure it lifts within the standard parameters and that the throttle disc will close down sufficiently to stall the engine. Idle is then set by adjusting the idle screw and if there is more than one Carburetter, they are balanced.

The carburetters are then wet tested. In this process the carburetters are filled with fluid to test all the seals in the carburetter against leaks and ensure the fuel level in the float chamber is correct. This process also checks the needle valve to make sure it shuts off correctly and holds pressure.
Pricing
Every effort is made to quote a final price for the work to be carried out; however, due to the nature of restoration work, it is not always possible to foresee every eventuality. There for all restoration work quotes are considered estimates until full examination of the items has been carried out.
To view our prices please click here
Comparison of before and after restoration...