AUF 700 Mechanical Fuel Pump - Dismantling
AUF 700 Mechanical Fuel Pump: Dismantling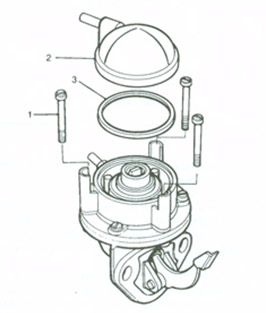 1
(a) Thoroughly clean the outside of the pump.
(b) Mark parts clearly to facilitate reassembly.
(c) Unscrew the three long screws (1), No. 10 UNF, retaining the outlet cover (2).
(d) Remove the outlet cover, sealing ring (3), and filter if fitted.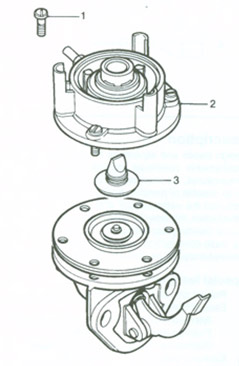 2
(a) Unscrew the three short No. 10 UNF body securing screws (1).
(b) Remove the upper body (2).
(c) Remove the combined inlet and outlet valve moulding (3).
Note: The valve is a press-fit in its housing. Sharp tools must not be used and care must be taken not to damage the fine edge of the larger diameter forming the inlet valve.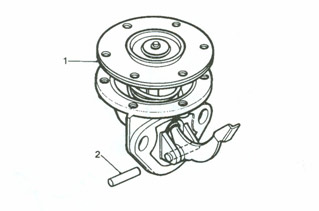 3
(a) Release the diaphragm assembly (1) by tapping out the rocker lever pivot pin (2) from either direction using a soft metal punch.
(b) At the same time, hold the diaphragm and rocker lever against spring pressure.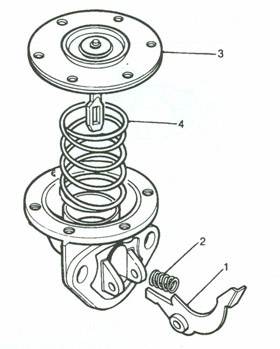 4
(a) Withdraw the rocker lever (1) and spring (2).
(b) Withdraw the diaphragm (3) and spring (4).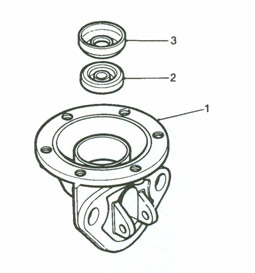 5
(a) The crankcase seal (2) is held in position by a pressed steel cup (3) and should only be removed if a replacement cup is available.
(b) When removing the steel cut, care must be taken not to damage the pump lower body (1).