AUF 700 Mechanical Fuel Pump - Reassembly
AUF 700 Mechanical Fuel Pump: Reassembly
Before reassembly, all components must be examined for damage and wear. Particular attention must be paid to the outlet valve lips, the fine edge of the large diameter inlet valve, and the plastic insert in the outlet cover. Unserviceable components must be renewed.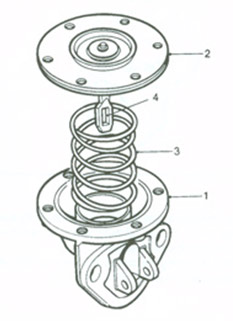 1
(a) Place the diaphragm spring (3) in the lower body (1).
(b) Remove any sharp edges from the diaphragm spindle and stirrup. Lightly smear with clean engine oil.
(c) Position the diaphragm assembly (2) over its spring, pushing the stirrup through the crankcase oil seal, so that the stirrup slot (4) is lined up to receive the rocker lever.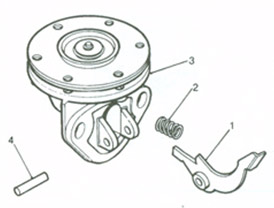 2
(a) Fit the rocker lever (1) and tension spring (2) into the lower body (3) with the rocker lever tip engaged in the diaphragm stirrup slot, and the tension spring located both on the conical boss in the casting and the protrusion on the rocker lever.
(b) Holding the rocker lever against its tension spring pressure, line up the pivot pin holes and gently tap the pivot pin (4) into position.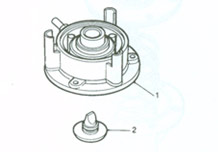 3
(a) Insert the combined inlet/outlet valve (2) into its housing in the upper body (1) and press into position.
(b) Ensure that the groove around the valve moulding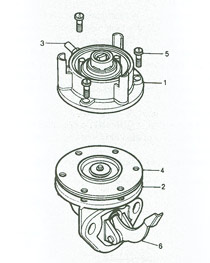 4
(a) Depress the rocker lever (6) so that the diaphragm (4) lies flat and position it so that the screw holes In diaphragm and lower body (2) are lined up.
(b) Attach the upper body (1) to the lower body with the short screws (5), ensuring that the inlet pipe (3) is in the correct position. Leave the screws slack at this stage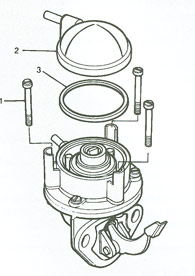 5
(a) Replace the filter, if fitted, cover sealing ring (3) and outlet cover (2).
(b) Insert the three long screws (1) ensuring that they pass freely through the diaphragm holes.
(c) Tighten the three short screws evenly.
(d) Position the outlet nozzle and tighten the three long screws evenly.